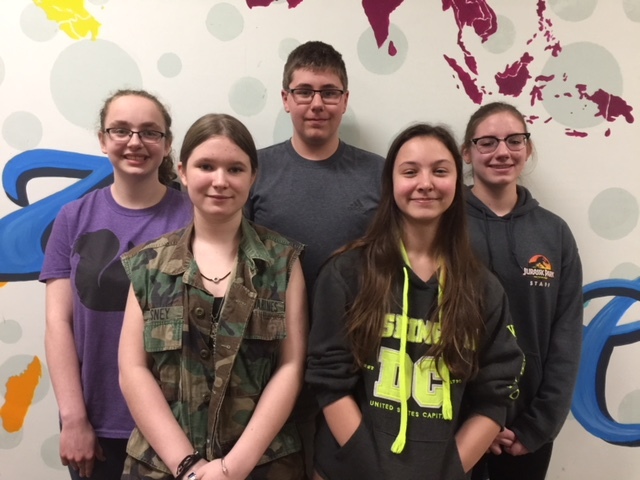 Students State-Bound
Jen Mulhern
Monday, May 14, 2018
L-R: Isabella Folio, Katie Cisney, Jack Rado, Rebecca Riebe, and Mary Beth Kindlesparker
James A. Garfield Middle School has participated in The Power of the Pen writing tournament for 17 years under the direction of Mrs. Jackie Lovelace, 7th grade teacher. This year the organization has taken on a new name, Pen Ohio. Pen Ohio started out as a writing program for high school students and this year took on the middle school writers.
On April 14th, students participated in a tournament at Kent State University. Eleven writers participated; 8th graders Isabella Folio, Katey Cisney, Dean Koleszar, Liz Cline and Kirsten Williams and 7th graders Isabelle Caldro, Rebecca Riebe, Jack Rado, Cameron Edwards, Mary Beth Kindlesparker and Natalina Porter. Top awards were won by Rebecca Riebe, 1st place and Katey Cisney, 5th place. These two qualified to compete in the state tournament along with Jack Rado, Mary Beth Kindlesparker and Isabella Folio. This makes 16 out of 17 years that Mrs. Lovelace has students qualified to attend the state tournament.
Thanks to a donation from the Garrettsville/Hiram Rotary Club, the students will travel to Wooster College on May 24-25th to compete in the state tournament. The students will be given writing prompts and will have 40 minutes to write a creative story based upon the prompt.