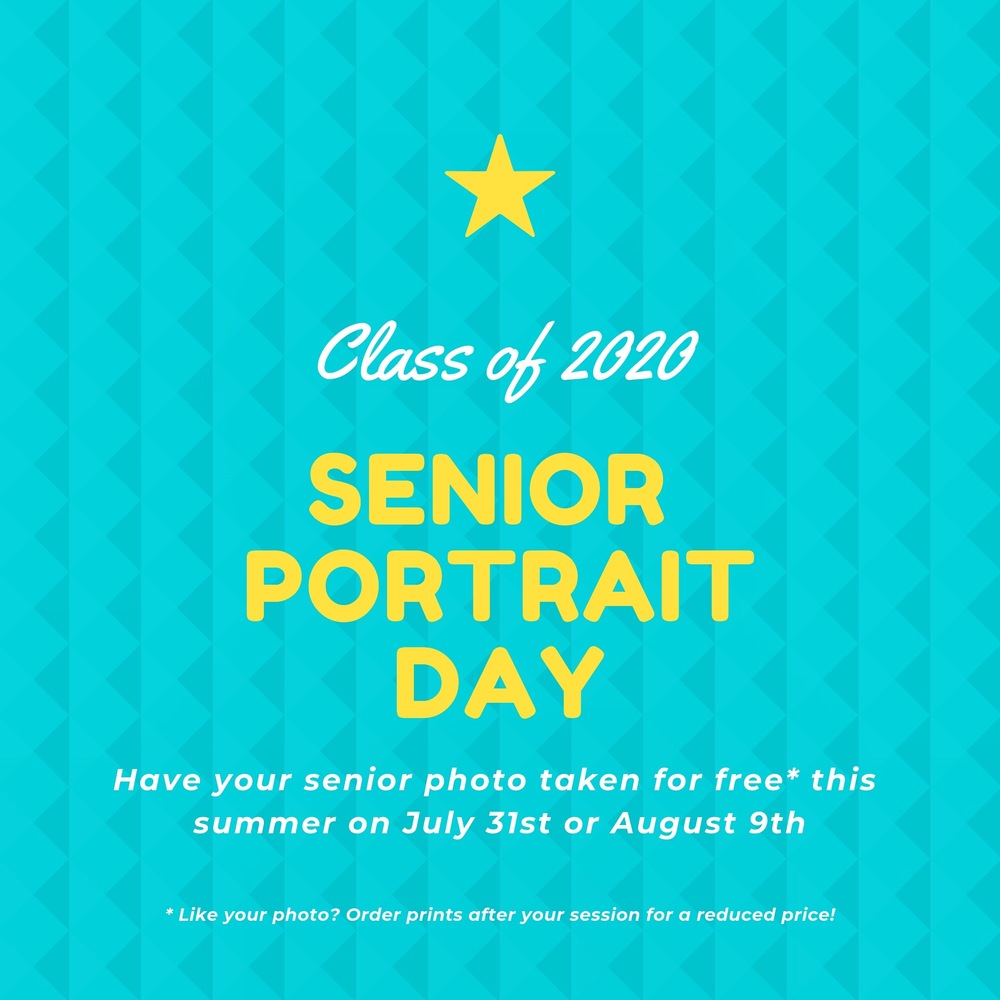 Free Portrait Sessions for the Class of 2020
Ben Coll, HS Yearbook Advisor
Wednesday, June 12, 2019
Dear Class of 2020 Students & Parents,
To ensure that every senior makes it into their final yearbook we have scheduled free senior portrait sessions for you this summer.
Inter-State Studio will be offering formal senior yearbook portraits on July 31st from 8:00 am – 1:00 pm, and August 9 from 10:00 am - 3:00pm at James A. Garfield Elementary School in the PD (Professional Development) Room. There will be twelve 15 minute time slots per hour.
We ask that you come dressed for your formal yearbook pose. If desired they will take up to 4 poses during the time allotted. Inter-State is providing their senior portrait service at no cost. You will have the opportunity to purchase prints from your session at a low price towards the beginning of the school year.
Register at https://www.signupgenius.com/go/8050E4BACAB22A2FC1-james to schedule your appointment. A proof with ordering information to view your images and purchase prints will be returned at a later date, however, you are under no obligation to purchase any pictures.
If you have any questions, or would like to confirm or reschedule your sitting, please call Inter-State Studios at 440-572-9321 Monday through Friday between 9:00 AM and 4:00 PM.
Frequently Asked Questions
Is the portrait session free?
Yes, every student in the senior class is eligible for a free 15-minute portrait session. There is no cost for the portrait, though you may order prints later at a low cost. Purchasing prints not only gives your family a keepsake, it will allow this free portrait service to continue in the future.
How do I order prints?
Photo proofs and an order form will be sent home with your student toward the beginning of the school year. Complete the order form and return it with payment to Mrs. Young or Mrs. Fisher.
Do I have to have my picture taken by Inter-State?
It is not a requirement, however if you skip both senior picture days, you will be expected to turn in a senior portrait or attend school picture day later in the year. By skipping senior picture day and school picture day you risk not appearing in the 2020 yearbook.
Can I still submit a photo from my own photographer for the yearbook?
Yes, though we'd prefer you also have a free portrait taken on senior picture day just to be safe. All senior pictures must be turned in by December 1, 2019.
——
A postcard reminder about senior portraits will be mailed home within the next couple of weeks. Please keep an eye out for it.