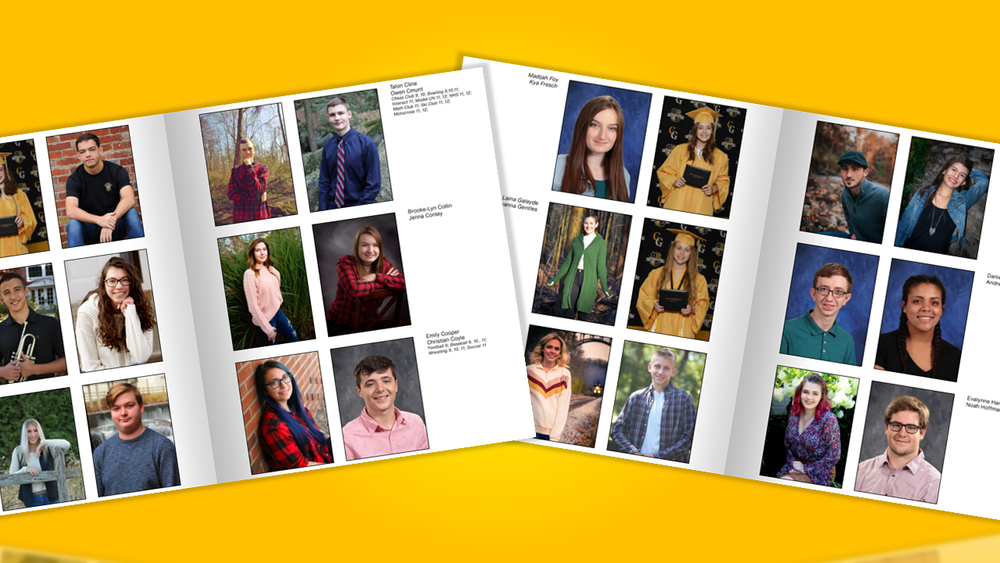 Important Yearbook Information for the Class of 2021
Ben Coll, Yearbook Advisor
Wednesday, November 04, 2020
Senior Survey - Current Activities & Future Plans
Please make sure you complete the Senior Survey which includes questions about the activities you are participating in now, and your plans after graduation. It takes about 5 minutes to complete and doing so enters you into a drawing for a $25 gift card courtesy of Mr. Coll.
Survey Link: https://forms.gle/vVjwJKwoZBPQZHof6
Free Senior Portraits
The HS Yearbook is working with InterState to provide FREE senior portrait sessions at GHS on November 14th. Portraits will be taken by InterState in The Studio (located inside the MS Media Center). We recommend that all senior sign up for a portrait session, especially if you missed picture day or were unhappy with how your photo turned out.
Choose a time slot at https://www.signupgenius.com/go/8050E4BACAB22A2FC1-ja
Sending in Your Own Senior Portrait?
BASIC SENIOR PHOTO REQUIREMENTS:
The photograph must be of professional* quality (no cellphone photos, Facebook profiles, or selfies).
The photograph must be vertical (portrait - not landscape orientation).
Full-body shots are not recommended as they do not reproduce well in the yearbook.
The photograph must be full-color.
The photograph may be taken indoors or outdoors.
No writing, watermarks, or signatures on the photograph.
No animals/pets, firearms, tobacco, vapes, alcohol, etc. in the photograph, please.
TECHNICAL REQUIREMENTS
The photograph should be cropped for a vertical 4x5 aspect ratio.
Minimum size of 4" x 5" @ 240 dpi is requested for photographs (300 dpi is preferred).
Accepted formats are JPG or PNG.
Submitting Photos
Photographs may be submitted via email to bcoll@jagschools.org.
Please include the the words "SENIOR PHOTO" and the student's name in the subject line of the message.
Please do not submit printed photos, they do not reproduce well in the yearbook.
ALL SENIOR PHOTOS ARE DUE TO MR. COLL BY DECEMBER 31, 2020